Examination-RMSCS
Examination Ceremony Research Master Social and Cultural Science 2020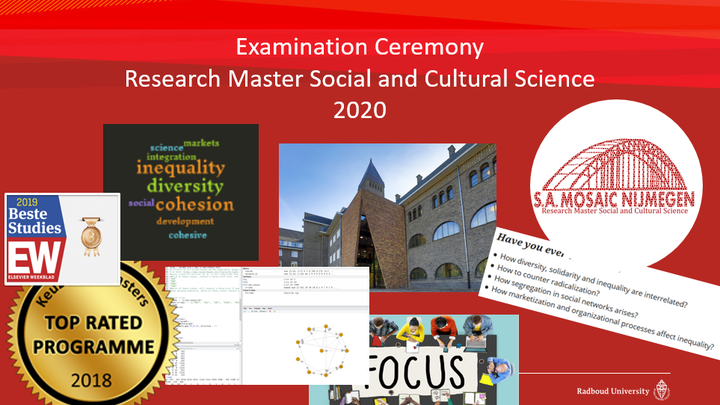 ---
YES, THEY DID IT
CONGRATULATIONS!!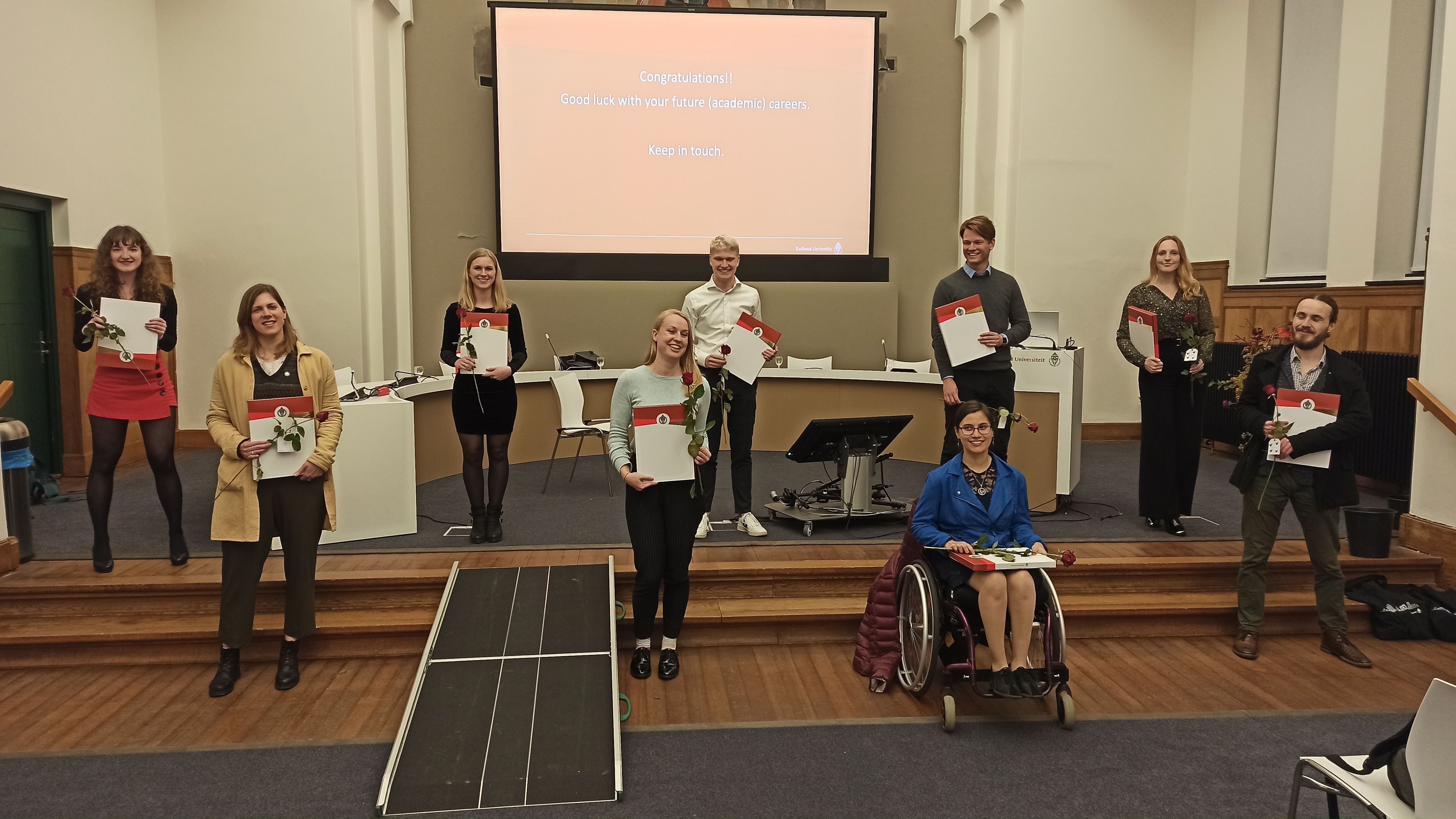 On the 19th of November 2020, nine students received their degree of the Research Master Programme Social and Cultural Science. We had a hybrid meeting: graduates and faculty were present in real life, family and friends watched the live stream.
---
PRESENTATIONS
The slides of the presentation of the Examination Ceremony Research Master Social and Cultural Science 2020 can be found here: presentations.
If you rather watch the movie, see here: RMSCS2020.mp4.
Start times:
| 0:00 | Welcome | |
| --- | --- | --- |
| 5:44 | Pieter van Lamoen | laudatio: dr. Niels Spierings |
| 16:47 | Jorrit Luimers | laudatio: dr. Mark Visser |
| 27:44 | Gwendolyn Taartmans | laudatio: prof. dr. Marieke van den Brink |
| 37:35 | Sara Wiertsema | laudatio: prof. dr. Gerbert Kraaykamp |
| 49:18 | Hannah Worringer | laudatio: prof. dr. Marieke van den Brink |
| 1:01:38 | MOSAIC | |
| 1:06:50 | Rob Franken | laudatio: dr. Hidde Bekhuis |
| 1:19:05 | Gita Huijgen | laudatio: dr. Lieselotte Blommaert |
| 1:31:37 | Lincy Scholten | laudatio: dr. Maurice Gesthuizen |
| 1:43:20 | Arinda Sutantapreeda | laudatio: dr. Laura Dobusch |
| 1:56:02 | Thesis Prize Nominations and Procedure | |
| 1:57:16 | Virtual Drinks | |
---
PROGRAMME
| 15.30 | Welcome | |
| --- | --- | --- |
| 15.35 | Pieter van Lamoen | laudatio: dr. Niels Spierings |
| 15.45 | Jorrit Luimers | laudatio: dr. Mark Visser |
| 15.55 | Gwendolyn Taartmans | laudatio: prof. dr. Marieke van den Brink |
| 16.05 | Sara Wiertsema | laudatio: prof. dr. Gerbert Kraaykamp |
| 16.15 | Hannah Worringer | laudatio: prof. dr. Marieke van den Brink |
| 16.25 | MOSAIC | |
| 16.35 | Rob Franken | laudatio: dr. Hidde Bekhuis |
| 16.45 | Gita Huijgen | laudatio: dr. Lieselotte Blommaert |
| 16.55 | Lincy Scholten | laudatio: dr. Maurice Gesthuizen |
| 17.05 | Arinda Sutantapreeda | laudatio: dr. Laura Dobusch |
| 17.15 | Thesis Prize Nominations and Procedure | |
| 17.20 | Virtual Drinks | |
---
PROMO
Do you want to know how we lured these students into our programme? Watch our promo video:
---